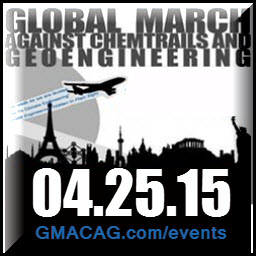 The next Global March against Chemtrails and Geoengineering will be held on Saturday 25th April 2015 in many parts of the world.
In Athens a rally will be organized at 2.00 p.m. in Syntagma Square, to be followed in the evening by a public address and discussion, indoors.
Although many activists believe that geoengineering, and specifically solar radiation management, as a supposed mitigating measure against "global warming", is not the real objective of the spraying, the fact remains that the only publicly acknowledged discourse on the idea of spraying the planet's skies with toxic metals (albeit as a "future prospect") is being conducted in this framework. This year (2015) in particular the relevant dialogue is being continued through a series of international meetings culminating in the big United Nations climate conference in Paris in December.
In these meetings and in the media (e.g. in Greece in the recent programme on the SKY channel) (https://www.youtube.com/watch?v=Os0o8aVMPi0) a single-minded attempt is under way to legitimate geoengineering and particularly solar radiation management, in defiance of the reservations of the more "ecologically-minded" elements in the climate movements and in spite of the fact that geoengineering has always been the preferred "solution" for the lobbies that have maintained that there is no problem of anthropogenic climate change.
Τhe insistence of the political mainstream on consigning all this high-level discussion to the purported garbage dump of "conspiracy theory" is not up to the standards of the new situation in Greece where we are believed to have a government that is setting an example of courage and integrity for the rest of Europe.
Attica Action Group against Chemical Aerial Spraying