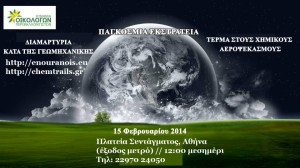 On Saturday 15 February 2014, at 12 midday in Syntagma Square, Athens, the Attica Action Group accepts the invitation for a parallel international demonstration against geoengineering, climate manipulation and chemical aerial spraying. In Australia and New Zealand, but also in Cyprus, there will be parallel functions on that day to inform the public of the global phenomenon that is affecting our present and our future. The Attica Action Group issues an open invitation to all citizens who have become aware of the phenomenon, who wish to be informed or who wish to help with the effort that is under way to halt these aircraft that are sowing death!
There can be no disputing the fact that the public has begun to react against the global phenomenon of chemical aerial spraying. In recent years, throughout a period where the characteristic white lines have become very conspicuous in the four corners of the earth, from North America to Australia, from China to Europe, citizens have been establishing centres to provide information and organize action against the dangers posed by this phenomenon. The internet has played its role in instantaneous transmission of pictures, sound and text and has assisted with the proliferation of action groups and helped us join forces, exchange information and embark on collaboration.
In the context of this effort to spread awareness of the facts, in recent years international appeals have been launched and a Global March organized, with activists gathering in numerous cities throughout the world, ordinary citizens who have become alert to the realities and have resolved to erect defenses to protect human health and the planet's biodiversity. In April 2013 a two-day conference was held in the European Parliament in Brussels entitled "Beyond Theories of Weather Modification: civil society versus geoengineering". On 15th February another action axis is to be activated for the purpose of stepping up the pressure on all the irresponsible responsible parties, who either wash their hands pleading inability or turn a blind eye in their efforts to evade the responsibilities that weigh on them.
The Attica Action Group intends to rise to the occasion yet again for this international mobilization. It sees itself as having an obligation to be on the street, in contact with people and reinforcing resistance. Not only are these actions not stopping; they are intensifying everywhere on this planet! It is simply obvious that sinister and dark agendas are under implementation from minds who seek to bring the world's peoples under total control, and one of the weapons being used for this purpose is this dumping of chemicals.
Neither can it be overlooked that a miserable targeted propaganda of climate change is being disseminated when climate is clearly being manipulated deliberately. Equally obvious are the geopolitical games being played worldwide (recently in our region also), and the climate manipulation for purposes of stock exchange speculation, with all the attendant proliferation of autoimmune diseases, new serious epidemics and allergies. It is also clear that cancers, Alzheimers and all the diseases that plague humanity primarily because of the dramatically polluted ecosystem, are likewise dramatically on the rise. And it is impossible to ignore the permanently overcast sky, the insidious white chemical clouds that are almost permanently over our heads, hiding our only source of life and energy.
The chemical spraying may not be the only evil that is afflicting the Earth at this moment, nor even perhaps the worst. It may not be the exclusive cause of everything bad that is happening. Nevertheless it is one of the weapons that are being used to perpetrate a crime against humanity, and against the world's flora and fauna. It is imperative that those who are turning this weapon against entire peoples, with no distinction of skin colour, religion or culture, be exposed.
It must become part of our collective consciousness that whoever plays games and conducts experiments with the world's health is to be held accountable!
Vassilis Sigalas